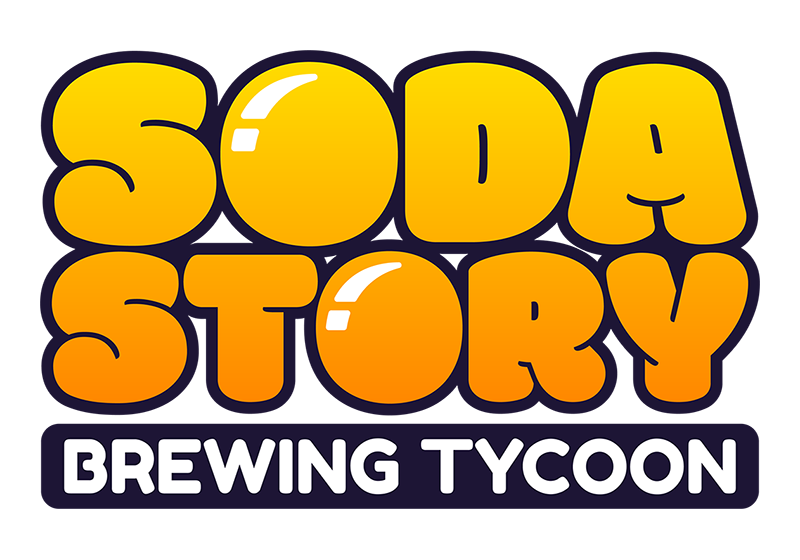 Soda Story - Brewing Tycoon
Hello and welcome to a long overdue update on Soda Story - Brewing Tycoon.
It's been quite some time since our last Alpha release, and we have still been working hard during our spare time to develop the game. The whole COVID-19 crisis certainly hasn't helped things with both of us having to adjust to working our day jobs from home.
Back to the fun stuff! We thought you might like to know what sort of things we have been working on. While the next Alpha release is still a bit away, some information will hopefully satisfy your interest in the meantime.
Up first is character customisation. We re-worked our main character and added a whole bunch of different choices when it comes to appearance. You are not locked into selecting a gender like a lot of games, and you can mix and match as many styles as you want.
Here's a preview of the new customisation screen when creating a new character.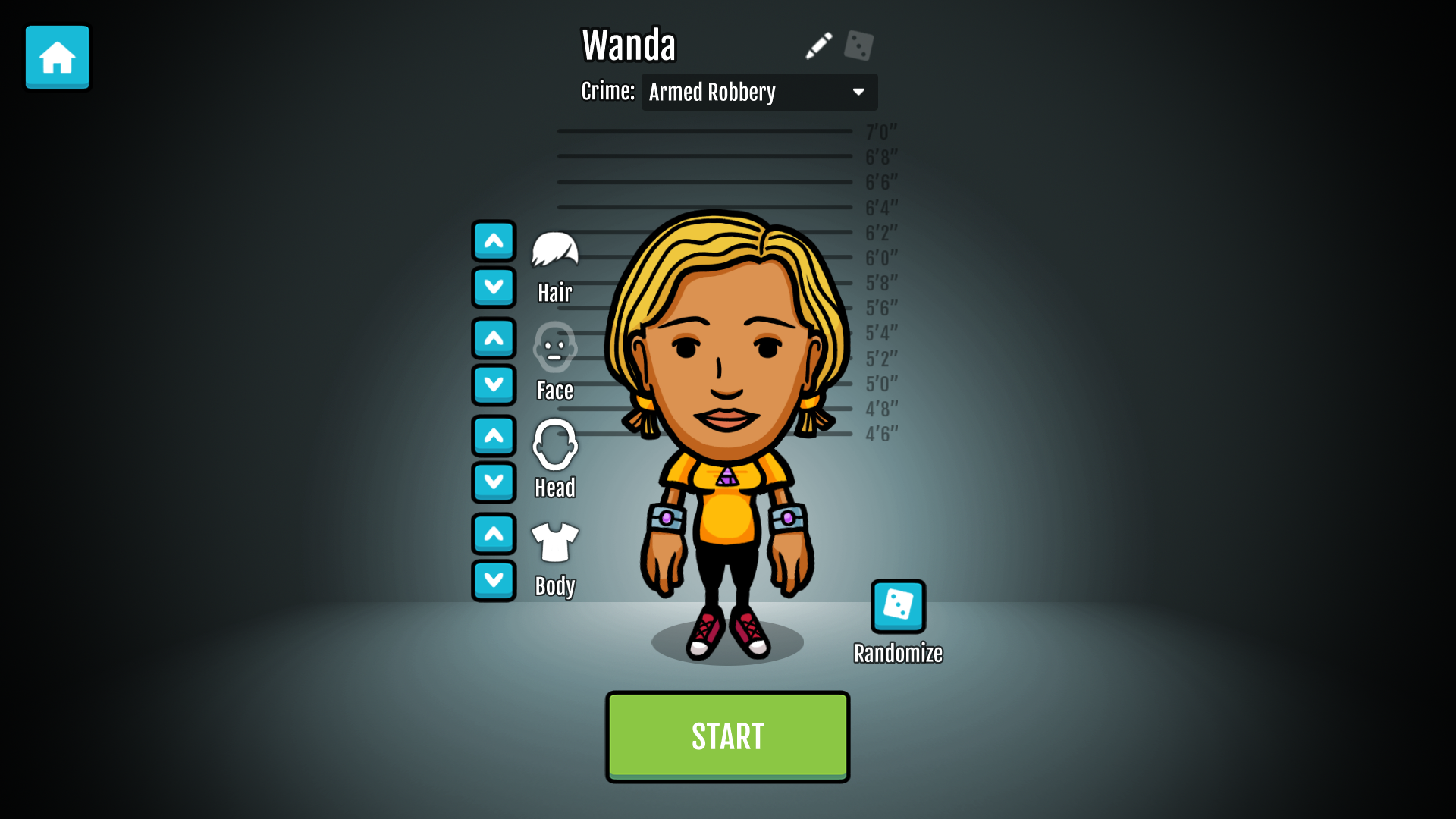 Next is the new and gigantic environment updates and overhauls. Originally, we were developing the game by having warehouses in their own separate contained environments. Travelling between them would be a map screen, button press, and loading screen. Besides the fact that this isn't very cool, the separate contained environments for each Warehouse were proving a bit of a technical hurdle as simulating different Warehouses while the player is in another would be a huge chunk of work and hassle to figure out. Now everything is simulated in real-time while the player is in any of the Warehouses or Compound environment.
In this new update every Warehouse is in the same environment and you as the player can walk between them. Now instead of a loading screen you can freely explore the entire "Prisoneers" Compound.
The Compound between Warehouses will eventually be full of cool puzzles and interesting things to discover. Moving between Warehouses is planned to be intuitive if you don't want to travel by foot, with a fast travel option still in the early design phase.
This also allows us to design some cool ways to infiltrate your Rival's Warehouses and sabotage their operations! Look out for some slightly open air vents around the outside walls.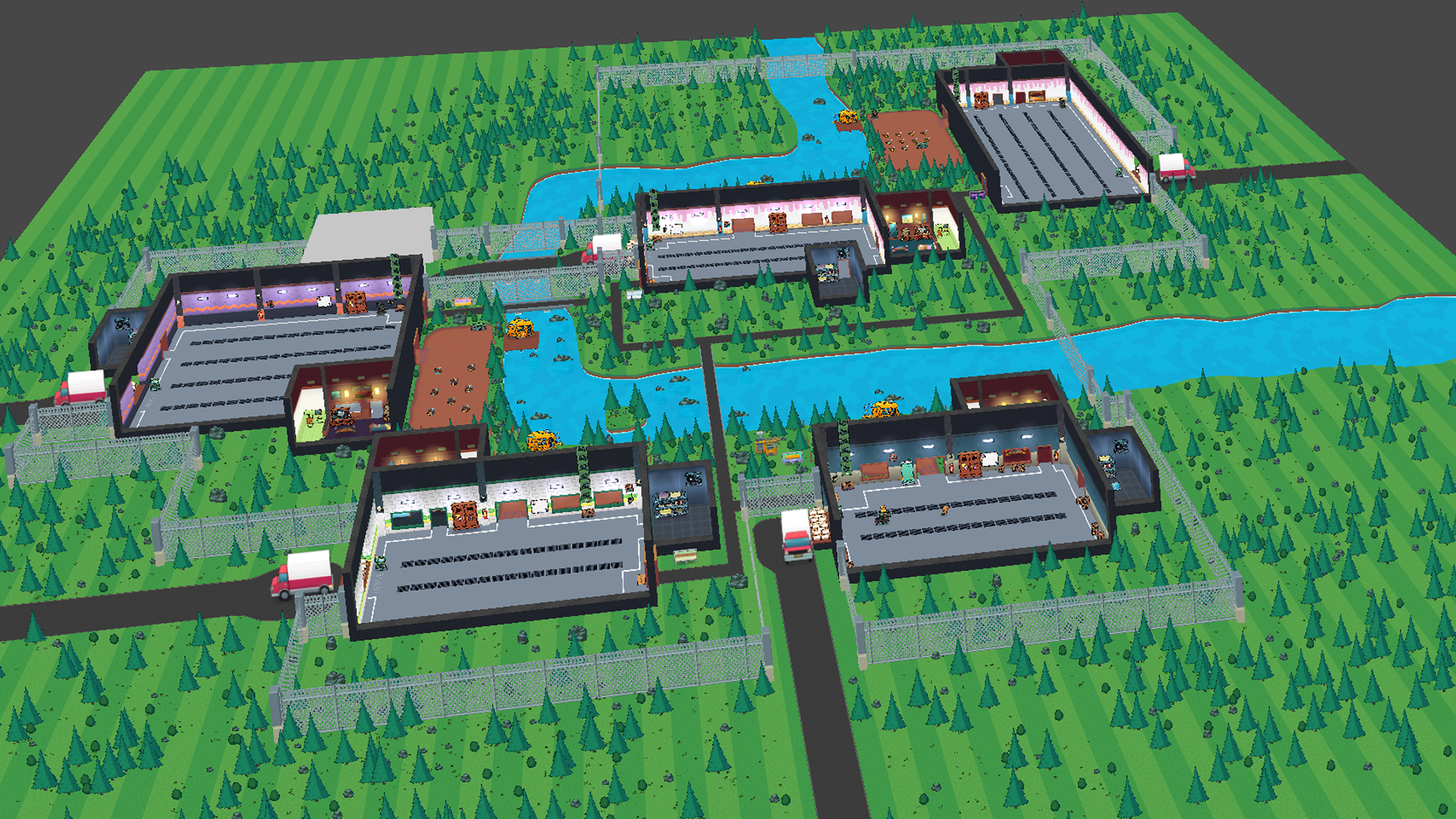 We know what you're thinking...just tell me about automation!
Presenting the new GardenBot. This little robot loves tending to your garden and can plant and harvest Flavor Essences and Flavor Cubes. Once harvested, the GardenBot can also store them in storage containers for your SodaBots to take from.
All of this would be pretty annoying if you had to interact and connect the bots one by one, which is why we have also been working on a new way to program and instruct your bots to perform tasks around your Warehouse.
Management Mode can be entered by clicking on a SodaBot or GardenBot. Once you are in Management Mode the camera can be freely panned around the current Warehouse, no need to mess around with moving your player!
A selected bot can be connected to various Machines and storage using the link buttons that appear when you mouse-over them. Handy linking lines tell you which Machines or storage the bots are connected to.
GardenBots can be set to Plant or Harvest a Garden Plot and Store any harvested Flavor Cubes into Storage Containers.
SodaBots can be set to Take from Storage Containers, Input into Brewers (with the new Advanced Brewing Module! More info coming up.) Output from Brewers and Store in the Shipping Bay.
A StorageBot is also in the early design stages and will be able to move your products around your Warehouse with more finesse and options than the other two bots.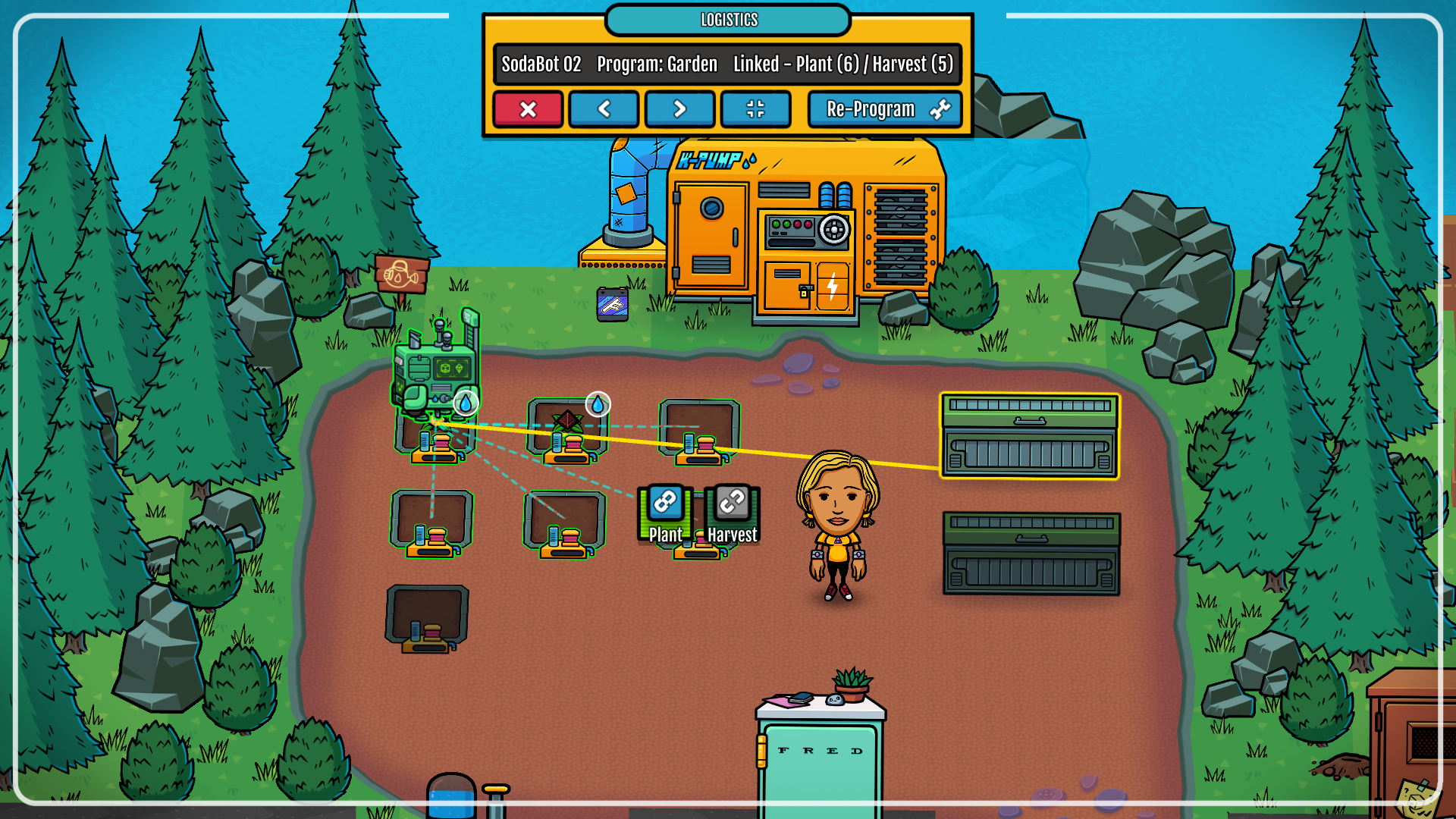 As well as Management Mode, bots can be adjusted to your liking using the new SodaBot Modifier machine. Any bots set to be re-programmed will be sent to this machine and enter it via a conveyor-belt. Once inside the machine, the player can adjust the bot to be either a SodaBot or GardenBot, take or add to it's inventory, fill it's water charge without using a Watering Can, or install SodaBot Modules.
SodaBot Modules are new install-able upgrades that can be placed in a SodaBot or GardenBot to improve or alter its performance. Here are a few examples of modules you can install.
Big Trunk: The bots inventory expands to 6 slots. A 5% chance to drop a case every few minutes.
Mopping Tyres: The SodaBot keeps the Warehouse clean when it moves around by mopping the floor. If it runs out of water it can create dirt however.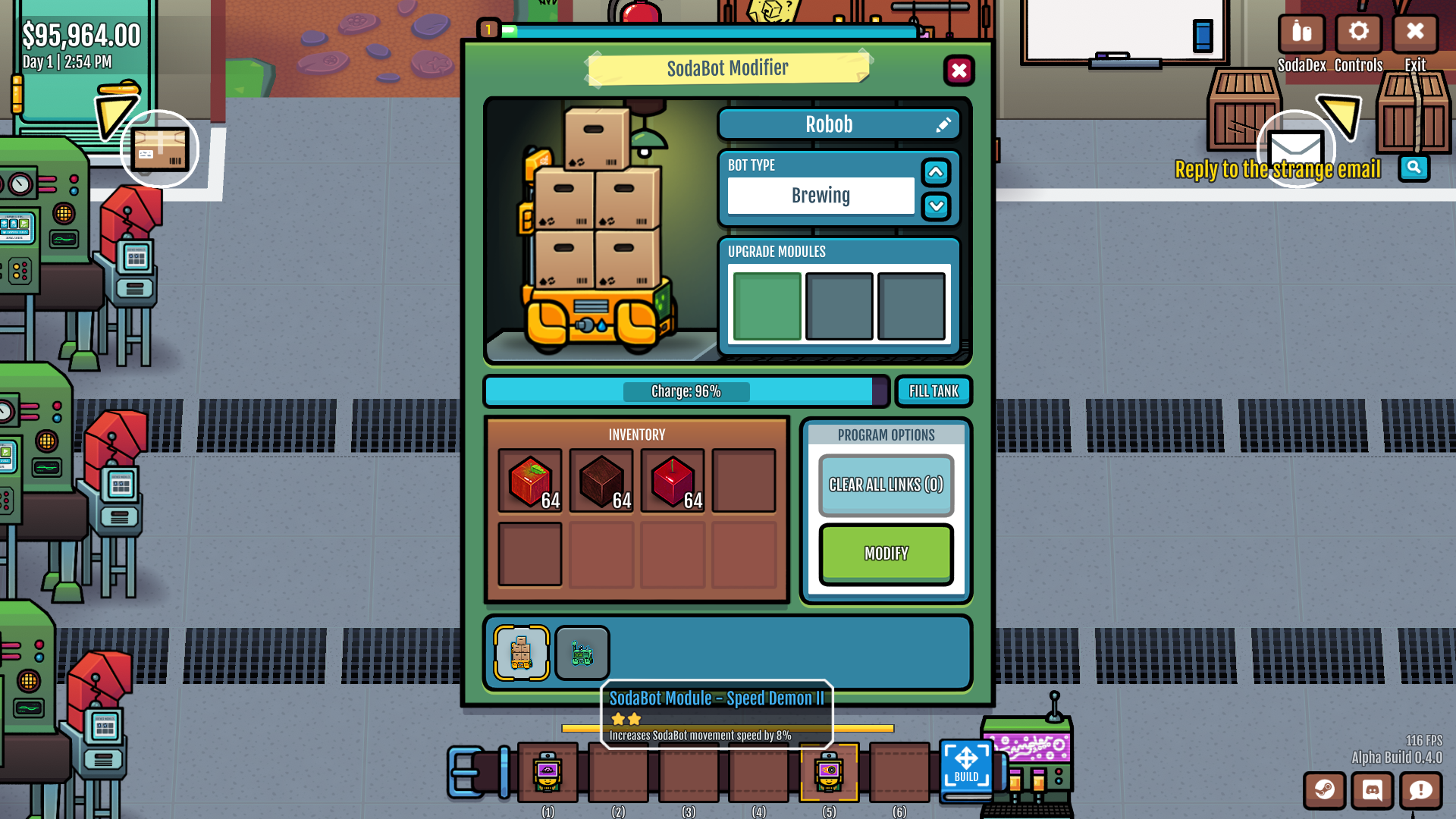 The Advanced Brewing Module is a new Research tier that unlocks a new add on on all Brewers once you have learned it. The Advanced Brewing Module allows the player or a SodaBot to input Flavor Cubes into the input inventory. If the Brewer runs out of ingredients while brewing, it will take what it needs to continue brewing from the input inventory.
As well as an input inventory, the Advanced Brewing Module has some slots which the player can install Brewer Modules into. These Brewer Modules can alter, and at many times improve, how the Brewer operates. Here are a few examples of modules you can install.
Stack-em-high: The output inventory has an additional 5 slots. However it can overflow if it gets full and will spit out the additional cases.
Input/Output Priority - High: Soda Bots will prioritise this Brewer input and output over all others.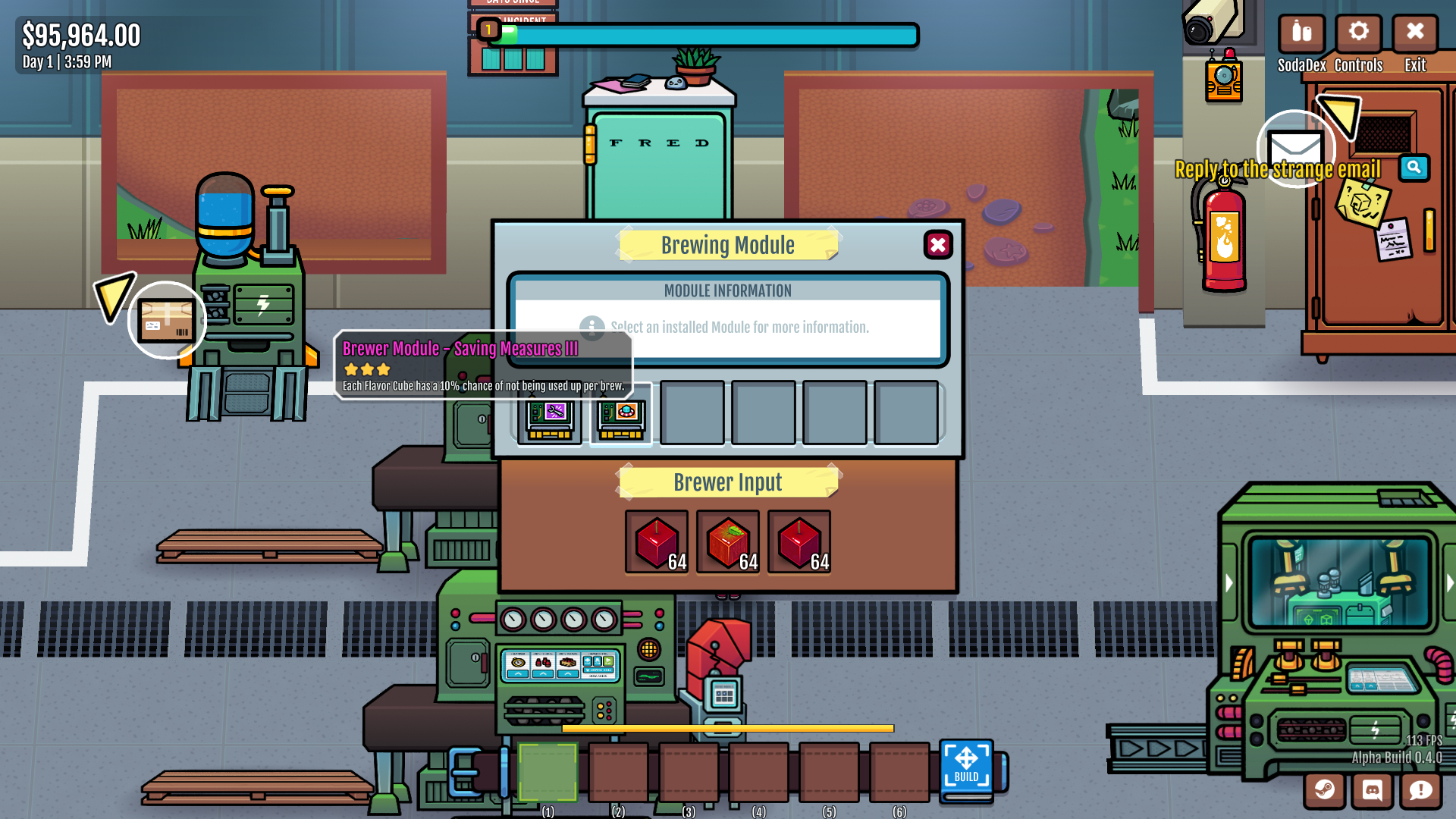 Last but not least is a change to how Modifier Cubes work. Previously, the container type set in a recipe would provide a buff or debuff to the value of a Soda depending on the cubes installed. Now that the containers are more tied to the Water system, we decided to move these modifiers to the aptly named Modifier Cubes. Before this change they didn't really do anything except add value to the recipe or gain you more fans of a certain group if you used them.
Here are some examples of new Modifier Cubes you can use in your Soda recipes.
Sucralose - +18% value if recipe contains a Vegetable flavor. -10% value if recipe contains a Weird flavor.
Ginseng -+12% value if recipe contains a Fruit AND Vegetable flavor.
We think that wraps it up for now in terms of new information. Hopefully you weren't too overloaded by this giant wall of text, and that your interest and excitement for our game is still the same or even significantly larger!
If development still chugs-along like usual we are looking to get the next Alpha version ready within the next few months, but we can't promise anything too certain.
Thanks again for taking interest in our game, and stay safe!
Oh, and you haven't already and would be so obliged - Wishlist Soda Story - Brewing Tycoon on Steam!
The Upper Class Walrus Team
Get Soda Story - Brewing Tycoon